I like to think of myself as a man of the people. So I've decided to ignore my mailbag full of questions from some of the games greatest stars, to answer a few inquiries from you common folk who seek my insight, wisdom and musings on the NBA.
If you're not an integral part of the NBA, you can email me here at tfbmailbag@gmail.com to possibly be a featured question in upcoming posts. Enjoy this weeks edition of the "Real" Mailbag.
Q: So the players/owners can both opt out of the CBA after the 2016/17 season. It's easy to imagine a scenario where the new TV deal and a new CBA changes the entire landscape of the league; we could see the elimination of the salary cap, the elimination of max contracts, new rookie wages, not fully guaranteed contracts, etc. Could get pretty crazy.
Having said that … does that make 2017 draft picks (final draft before CBA ends) the most valuable commodity in the NBA?  Players picked in that draft will be stuck on the rookie contract and their rookie salaries for multiple seasons. That rookie salary may end up being minuscule in comparison to the huge contracts players might sign in the new CBA. The No. 1 player in the 2017 NBA Draft may be making $9 million a year in the last year of his deal in 2021 … while Anthony Davis is making 50 million a year. Are GMs going to realize this and value those picks accordingly? Or am I overstating the value of those picks? (Schwab, PA)
JB: This is a really loaded question, so I'm going to go step-by-step with you. First off, I agree and also somewhat disagree with what you've confronted me with. The approach of a new TV deal and expiring CBA are most likely going to change the landscape of the league, but I'm not sure it's a good idea to speculate in such extremes that all these things (salary cap rise, elimination of max contracts, new rookie wages, non-fully guaranteed contracts) will coincide at once. We already know that the salary cap is certainly going to rise in a significant manner; that's key. It's hard to see the rest of this stuff falling in line when the new CBA negotiations are going on. The players really do hold a lot of power even though they seemingly gave into the owner's demands the previous time the league was in a lockout. I doubt the NBPA would give in to such demands as non-fully guaranteed contracts. However, a new rookie wage scale and elimination of max contracts are probably more realistic. But yeah, I agree if all this falls in line this would create a lot of intrigue and commotion among league front offices.
Ok, phew … now let's get to the second part of this question. Here's your first-half entertainment GIF of
Stephen Curry
dancing: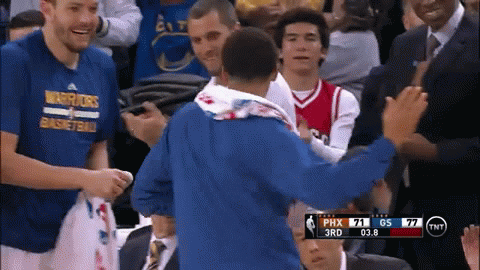 For the sake of continuing this question, we'll assume the NBA is prepared to institute a new rookie wage scale in the new CBA. You're absolutely right, these draft picks will become incredibly valuable; and the example of a top selection (who may have superstar ability) making pennies compared to a potential future
Anthony Davis
contract where he's making upwards of $50 million does validate the future value of these picks.
You asked if GM's are going to be aware of this phenomenon that these future draft picks will be stuck on this current rookie wage scale while the NBA cap significantly rises. Well, I really hope GM's realize what's going on! I mean, they're paid great sums of money to be aware of things like this and prepare accordingly. There are also several analysts and assistants within the organization who also are being paid to recognize these things. If any team is unaware of this, it's probably the Knicks, but that goes without saying.
To answer the final part of your question, yes, I think you're slightly overvaluing these picks, and there are a few variables and exceptions why that is so. One is that only a handful of these picks will end up being valuable. In a typical draft, maybe seven or eight players become instant contributors and even a smaller amount become future All-Stars. If a team is able to get their hands on a pick that's ultimately in the top 10 of the lottery, now that's a huge gambling chip and key asset. But if you're getting a late first-round pick, you'd have to get pretty lucky to hit on that anyway, so otherwise those picks still hold the same relative value. The other thing is that GM's do understand that these picks have this unique value and it would probably be incredibly hard to pry those picks from bottom dweller teams in a trade, unless you're giving up a superstar in return.
Q: What's a worse front office move? The New York Liberty hiring Isiah Thomas as President or the Nets possibly finalizing an extension with GM Billy King? (Joseph H.)
JB: For all who are unaware, the New York Liberty is a WNBA franchise. What's the WNBA you ask? It's that thing that comes up on your television when you leave ESPN2 on but fall asleep. And now you woke up and can't find the remote, so you're stuck either watching this or getting up and changing the channel manually. But in all seriousness, the WNBA also stands for the Women's National Basketball Association. But why would there be a problem with a WNBA franchise adding an NBA Hall of Fame point guard to part of it's ownership group and also making him team President? I guess not much, except for the fact that Isiah Thomas was found guilty of sexual harassment of a female subordinate during his term in the Knicks' front office. Female being the operative term. He's now serving as a figurehead for an organization and in a league which promotes women in sports. This just seems like a huge slap in face to the WNBA, but I guess James Dolan is going to be James Dolan. He has proven to be inept and insensitive all in one foul swoop. This is like if Ronald McDonald decided to let the Hamburglar manage every one of his restaurants. Ronald knows this isn't going to end well, but he does it anyway. It just makes no sense. How can these female players be forced to work under a man who shows no respect for women? How can I say Isiah Thomas has no respect for women? Well, because it was decided in a court of law and this forced the Knicks to pay a hefty settlement.
This brings us to the Nets and Billy King, who are equally as inept as Dolan and Thomas.
In a recent report from Grantland's Zach Lowe,
the Nets were supposedly talking extension with GM Billy King, but I'm struggling to find any reason why negotiations are currently ongoing. Congratulations Nets, you managed to fall ass-backward into the eighth playoff spot and steal two games from a wounded Atlanta Hawks team. I want to work for the Brooklyn Nets someday, where expectations are set so low and I'll always be able re-up with management for more money after being a below average to mediocre employee. King gave Danny Ainge a bunch of first-round picks hoping that novice head coach Jason Kidd could put together a winning formula with what was left in the tank of KG and
Paul Pierce
, as well as
Deron Williams
and
Joe Johnson
, who were being paid 3x their worth and seemed content not really doing much. That didn't work out to say the least. Even if ownership is that dumb to extend King, at least make sure he re-signs
Brook Lopez
and let him prove his worth in other deals this summer. It really just ceases to amaze how GM's like Billy King still have jobs, as he has ruined his team's future and yet may be rewarded. Baffling. Just baffling.
However, I'm going to have to give this one to Thomas and Dolan. For stepping on so many social boundaries and just disregarding the integrity of the WNBA by placing Thomas in a position of power over these women players, when he has proven over time that he most definitely should not be.
JB:
Man, I really hope this isn't the end for
Tim Duncan
. Of course, no one could blame him for walking away after 18 years and five NBA titles, though. It's evident that Duncan is still able to play at a high level and him retiring wouldn't necessarily be because of declining ability, like the case for many of the league's retiring players. The question Duncan has to ask himself is this: Is he willing to go through the rigors of the offseason training and intensive regular season all over again for a final time? Or is he satisfied after winning five titles and content leaving Gregg Popovich and the team, as is?
If Duncan does indeed choose to retire (even though I'm not anticipating this), he's one of the final pieces of a fading generation of the NBA; a generation of players that's rapidly coming to a close. They're represented by players like
Allen Iverson
,
Vince Carter
,
Ray Allen
,
Steve Nash
,
Jason Kidd
,
Dirk Nowitzki
,
Kobe Bryant
,
Shaquille O'Neal
,
Kevin Garnett
,
Chris Webber
,
Paul Pierce
, etc. The close to this generation of players is very nostalgic for me, because these are the players I grew up watching and idolizing. They're what sparked my love of the game, and seeing these names slowly dissipate from the league is saddening.
Q: Now that the Sixers will likely not get any other draft picks besides their own (likely top three), what is their strategy heading into the draft? (Adam, PA)
JB:
Sam Hinkie's strategy is still to take the best player available. Even though they seem pretty set in the frontcourt with
Joel Embiid
and
Nerlens Noel
, they still aren't in a position where they can draft for need over talent. Of course the ideal scenario would be where need coincides with the top player on their board, but it doesn't always work out that way. I still believe if Hinkie had his druthers, he'd select Karl-Anthony Towns at No. 1. Hinkie values players who are solid on both ends of floor and also have good measurables. The Sixers GM has been known to shake things up and makes a lot of trades, so I wouldn't put it past him to deal Embiid or Noel during or before the draft. Ultimately, he'd want to build around these two players, but the goal in Philadelphia is to add superstars, and if the right trade presents itself, either of these players could be on the move.
The strategy for the Sixers in the upcoming draft is to simply just take the best players and let the rest work itself out. D'Angelo Russell and Emmanuel Mudiay are players who fit a position of need and are players Hinkie has kept a close eye on as well, but I also wouldn't rule out the Sixers using their stockpile of future first-rounders to trade back into the lottery somewhere and take a shot on prospects like Justise Winslow or Mario Hezonja:
They'll most likely not be aggressive in free agency and take a passive approach and save that money for future offseasons when the cap rises even further, and they'd then have the ability to sign multiple big-name players easily with the amount they saved up over the past few seasons.