As an amateur basketball writer extraordinaire, I of course have a lot of close friends and sources inside the NBA. So from time to time I get flooded with emails from some elite names in the industry who want to get the inside scoop on all the current hot topics in the league. Welcome to Jeff's NBA Mailbag.
Q: Are active players allowed to win Executive of the Year?
(LeBron, Akron)
JB: I'm pretty sure players aren't able to win Executive of the Year. But remember when we were all hilariously making fun of the Cavs and general manager LeBron James for trading two first-round picks for Timofey Mozgov. Yes, the same Timofey Mozgov who's most significant moment as an NBA player was getting put on a poster by Blake Griffin.  
Even though technically David Griffin is the GM of the Cavaliers, every move in Cleveland goes through LeBron whether you believe it or not. I like to imagine during his two week sabbatical, LeBron marched into David Griffin's office like he was Don Draper and convinced him to make the trades for J.R. Smith, Iman Shumpert, and of course, Mozgov. LeBron knew better than anyone else what the team needed, and he was ultimately right. The added perimeter threat of J.R., and defensive presence of Shumpert and Mozgov greatly improved the roster. The Hawks may be the best team in the East right now, but it's hard to believe a Cavs team, led by the best player in the world who's running on all cylinders, would fall short of making the Finals.  
The other reason why I'd have a hard time giving LeBron Executive of the Year is because if Kevin Love does leave in free agency (he will), they'll have traded future perennial All-Star Andrew Wiggins for a one-year rental of Love. However, all might be forgiven if the Cavs can finally win the title this season.
Q: Do you think John Calipari will reconsider and possibly take another shot at the NBA?
(Billy, Brooklyn)
JB: Absolutely friggin' not. Coach Cal has the perfect job right now. It makes little sense to walk away from the best gig in college basketball to go coach the Brooklyn Nets and probably end up back in the NCAA after two or three years. Calipari is living the dream of a coach along with other college dynasty guys like Nick Saban. They get paid millions of dollars and also get any recruit they want and are perennially in the hunt for national titles.
If Kentucky ends up having six or seven guys go in the first round of the draft only playing about 20 minutes a game each, this will only encourage more top 10 recruits to link up with Calipari. The top recruits who don't choose Kentucky usually don't commit because they want playing time to show off their talents, and to be the centerpiece of a program. But if Kentucky can have four lottery picks (which is possible this year), why wouldn't every top recruit that gets an offer go play for Kentucky? This year could just be a blueprint for how future Kentucky teams might look under Calipari; by having a multitude of top recruits rotate between two lineups. Players will buy in because this scheme hasn't affected the draft stock of the current players. In fact, it may even produce the top pick in Karl-Anthony Towns.
If John Calipari ever decides to go back to the NBA, it'll have to be with a team that's already a contender, and has proven young stars. I'm not sure Calipari would ever give up this ideal scenario at Kentucky for a lesser job that requires a long rebuild in the NBA.
Q: Will a Hawks/Celtics first-round playoff series be unwatchable for NBA fans?
(Adam, NYC)
JB: Yes. It'll be awful. I love the Hawks, but even I don't think I can stomach four games watching them torch the Celtics. I can imagine the promos for this first-round matchup…
"This Thursday on TNT, watch Evan Turner and the Boston Celtics try to upset Paul Millsap and the top-seeded Atlanta Hawks."
No thanks.
I'd rather watch paint dry than watch Tyler Zeller and Kelly Olynyk for 48 minutes. We have to remember that although the Celtics might be a playoff team, they're not great at basketball by any standard, even if Brad Stevens is great. The NBA won't be able to fix the playoff format by next week, so we'll unfortunately be forced to see the under .500 Celtics get exposed by one of the best teams in the league. At least with other potential playoff teams who also have a below .500 record like Brooklyn or Miami, there are players with some star talent you genuinely enjoy watching; the Celtics have none of that.
This is my impersonation of one of my Boston area friends calling me during the Hawks/Celtics first-round series:
"Hey, did you just see that Avery Bradley 18-foot jumper? That was so sweet!"
"Nah, I'm not watching the Celtics game, I decided to catch up on Game of Thrones instead."
The Hawks have been a truly phenomenal story this season … and I can't wait to watch them in round two.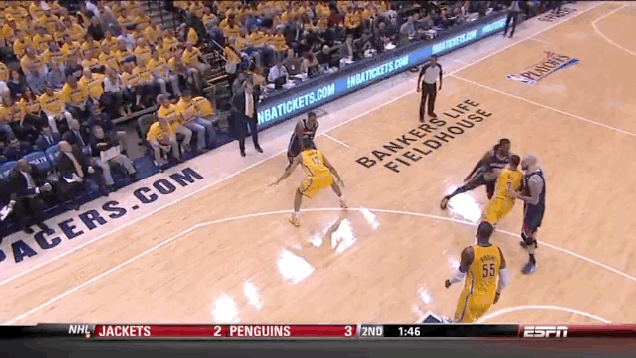 Q: In your opinion, who's Golden State's biggest contender for the West title?
(Doc, Los Angeles)
JB: The obvious answer here is the San Antonio Spurs. Per usual, we were all sleeping on them, and it has come back to bite us. They look almost unbeatable right now and are posturing for a deep playoff run. Kawhi Leonard is looking like the Kawhi we all witnessed from last year's NBA Finals. Also, I'm almost positive Tim Duncan is immortal, and his only kryptonite might just be actual kryptonite. Why do we doubt this team every year?
However, this isn't the team I think that has the best chance of beating the Warriors this postseason. Call me crazy, but I still believe in the Memphis Grizzlies. They've looked pretty unsure of themselves heading down the stretch, but I think the way the Grizzlies are assembled, they have the best chance to beat Golden State in a seven-game series. I guess I'm really just infatuated with "Ground & Pound," Marc Gasol and Zach Randolph. Memphis can slow down the tempo of the game and make Golden State play in the half-court. Z-Bo has been one of the few players who has truly bullied Draymond Green in the post this season, which makes it a bit harder for Golden State to play him at the 4 spot. If Memphis can manufacture just enough perimeter scoring, I believe they have more than enough talent to upset the Warriors.
Jeff Green will have to be a huge factor in this series, and Green as a reliable player night in and night out remains to be seen. He has the scoring chops and ability to fill it up from the outside and give Memphis another potent offensive threat who can change the game. Memphis hasn't looked great over the last couple months, but playoff basketball is a different beast and I think the Grizz have what it takes to bring down Stephen Curry and the Warriors.
Q: Sam Dekker and Frank Kaminsky were two of the stars of this year's NCAA tournament. Is it possible for you to compare both of them to a current NBA player who isn't white?
(Chuck, Atlanta)
JB: We all know there's an unwritten rule that you can only compare white basketball players to other white basketball players. So if you suddenly approached me on the street when I wasn't expecting it, no, I definitely wouldn't be able to. Even as I write this response, all I can do is think of Sam Dekker as a poor man's Gordon Hayward, and Frank Kaminsky as the shorter-haired reincarnation of Kelly Olynyk.
However, I've had ample time to think of some good comparisons for these sure-fire, soon to be NBA draftees. For a small forward, Dekker has good size at 6'9 and aside from a pure shooting stroke, he consistently shows the ability to get to the rim and finish plays, as well as being an above-average rebounder. I have to say he reminds me a little bit of Luol Deng, who has a similar skill-set and size, albeit a larger wingspan. Deng is much better on the defensive end, but Dekker has the tools to become at least an average NBA defender. Also, this is quite a generous comparison for Sam Dekker. If he was ultimately going to become the next Deng, he'd probably be considered in the top six or seven picks in this draft.
As for Kaminsky, he reminds me a bit of Marreese Speights. Speights is able to step away from the basket and knock down the outside shot, but is also a gifted post player and has a nice touch around the rim. Also, both players are going to give you absolutely nothing on the defensive side of the ball. Kaminsky is lethal from the outside, but this overshadows his impressive game on the low block. In back-to-back games in the Final Four, he outdueled Willie Cauley-Stein and Jahlil Okafor. Cauley-Stein is heralded as a prolific defender at the NBA level, and Frank the Tank took him to school last Saturday evening.
Q: Even though there's about one week left in the regular season, would the Wizards consider making a coaching change before the playoffs?
(Randy, D.C.)
JB: This definitely will not happen, but it doesn't necessarily mean it's the right decision. It's kind of unfathomable to think the Wizards would fire their coach about a week before the season ends, but does anyone actually believe in Randy Wittman?
It has become evident that the team has completely tuned out Wittman, and their struggles down the stretch this season have been clearly documented. They have lost some bad games, and it looks like an early exit in the playoffs is likely.
So if you're Ted Leonsis, why not if you want to shake things up? The Wizards have almost zero expectations as it stands. They're not going to be able to beat the Cavs or Hawks, so why not give another coach a true audition for next season?
If I'm in the Wizards' front office, I've got Marck Jackson on line 1, but I'm more interested in Billy Donovan, who just picked up the phone on line 2.