Kevin Durant can now confidently assert that he's the best basketball player in the world, despite missing 55 games in a season fraught with injuries. Just a couple seasons ago before he won the MVP award, Durant revealed his uneasiness with always falling short of achieving basketball paramountcy. In an interview with Lee Jenkins of Sports Illustrated in 2013, Durant even admitted that LeBron James was the superior basketball player:
"I've been second my whole life. I was the second best player in high school. I was the second pick in the draft. I've been second in the MVP voting three times. I came in second in the finals. I'm tired of being second. I'm not going to settle for that. I'm done with it."
After Durant dispensed those sentiments, he was determined to put together a historic scoring season en route to his first MVP award. This upcoming season nothing is certain, but if Durant can return to full strength, he'd surely rejoin James in the discussion for best NBA player. One question protrudes through this scenario: Has Durant ever truly produced a better season than James? Some argue that even when Durant won MVP, James was the greater all-around player. The numbers show, however, that Durant has already conquered his quest to no longer settle for second best.
When Russell Westbrook missed nearly half of the 2013-14 season, Durant unflinchingly took matters into his own hands. The lanky 6'10" forward carried the Thunder on his back and dragged his team to a 58-win season while posting career highs across the board. Here's how Durant's stats stacked up against James's well-rounded numbers:
| Rk | Player | Season | PER | True Shooting % | Rebounds | Assists | Points |
| --- | --- | --- | --- | --- | --- | --- | --- |
| 1 | Kevin Durant | 2013-14 | 29.8 | 63.5 | 7.4 | 5.5 | 32.0 |
| 2 | LeBron James | 2013-14 | 29.3 | 64.9 | 6.9 | 6.3 | 27.1 |
Provided by Basketball-Reference.com: View Original Table
James exhibited historic efficiency numbers a couple seasons ago with a career-high 64.9 true shooting percentage; however, a) he scored nearly five points less than Durant per game, b) Durant was merely 1.4 percentage points behind James and c) Durant displayed a more versatile aptitude for scoring. While the brunt of James's points (50.3%) came from the paint, Durant torched opponents with his silky smooth jumper from all areas on the court.
Take a gander at all that fire in Durant's shot chart below:


Durant's five straight scoring titles up until last season is no coincidence. He's a bad man who can fling the ball from anywhere and make the opposition's best perimeter defender look silly within a split second.
LeBron's shot chart on the other hand is a bit more chilly: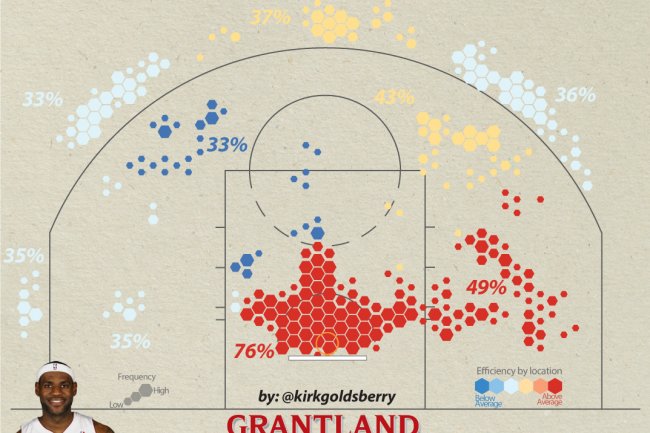 A common misconception is that Durant's greatness ends with his scoring ability, but that couldn't be further from the truth. Durant's career-high 5.5 assists per game should quell the notion that he's simply a scorer who's incapable of setting up his teammates. James's 6.5 assists per game tops Durant's assist numbers, but assists per game aren't the only way to quantify the effect a player has on his team as a whole.
With the defense preoccupied with trying (and failing) to contain Durant's dead-eye shooting ability, KD is thus able to create better scoring opportunities for his teammates. Consequently, Durant's ability to hit tough shots from the perimeter mixed with his playmaking dexterity led to the Thunder scoring eight points per 100 possessions more when KD was in the game, compared to the Heat's 7.1 when James was on the floor in 2013-14.
Although James is seemingly the perennial leader in PER, Durant finally beat him in that regard, as noted in the table above. James may be the superior facilitator, but Durant's deft shooting and constant improvement when making plays had a greater affect on his team offensively the year he won MVP.
Now many of you may be wondering, "Defensively, isn't the bigger, stronger, yet agile LeBron better than scrawny Durant?" James is commended for his ability to play lockdown defense on all five positions when he's locked in. The problem is that James's vigilance on the defensive side of the ball has been less than stellar over the past couple of seasons.
Just Google search "LeBron James defense," and a plethora of articles highlighting his defensive woes will appear. More often than not, LeBron has failed to keep his man in front of him on drives, and he gets beat on backdoor cuts and in transition more than a player of his stature should. LeBron's defensive woes prompted ESPN's Tom Haberstroh to recognize Durant's defensive superiority to James in an intriguing Insider article.
LeBron may be better equipped physically to play defense, but Durant's lanky arms and quickness have certainly served him well on that end. Durant is able to utilize his quick, long arms to disrupt shots, clog the passing lanes and strip the ball away from his man. Consequently, the numbers support that a healthy Durant is actually a better defender than James:
Provided by Basketball-Reference.com & NBA.com/Stats
While James would normally dominate in the defensive stats above, Durant certainly had the upper hand defensively. Astoundingly, Durant forced his defensive assignments to shoot 6.5 percent below their average field goal percentages. He's deceptively strong and adept at holding his own against even the bulkiest perimeter players in the league — including the King himself. KD has proven that he can dethrone James in the defensive department.
Durant's game is far more developed than he's been given credit for. His unique shooting ability combined with his facilitating prowess and stifling defense had given him a slight edge over LeBron the last time they were both healthy. It isn't outlandish to believe that, barring injuries, Durant can once again overtake the aging LeBron as the league's best player. Let's hope both players are healthy next season so we can watch them hash it out on the court.