33 days. That's how long it's been since the Philadelphia 76ers announced that center Joel Embiid needed a consecutive season-ending foot surgery.
That's an exorbitant amount of time for an NBA team to stay silent regarding one of its franchise players, especially considering the career threatening ramifications of Joel's injury. In the statement 33 days ago, the team said the surgery would take place in 7-10 days. This time would be used for the Sixers to find a suitable doctor and continue to thoroughly examine the best course of action for a player whose role in the Sixers' future is paramount.
But if you're following this nondescript timeline, Embiid should've had his surgery about three weeks ago. So why is this not the case? And why have the Sixers stayed silent on the matter? There's been a lot of speculation on this topic within the fan base and around the league at large, and I'm here to personally add to this speculation and muddy the conversation even further.
Right now the consensus story is that the Sixers want Embiid to get surgery to repair his broken navicular bone. The feeling on the Sixers' end of things is that the only way for Joel to have a chance at a healthy and fruitful career in the NBA is if this bone heals correctly, and they're willing to throw away another season of potentially having him if it gives them a better shot at having him for many years down the road.
As much as you want to tease the Sixers for tanking in three consecutive seasons and basically giving their team of D-League All-Stars zero chance of competing in meaningful NBA games, at least they have the best interest of the player at heart.
Many teams often don't subscribe to this method, as hard as that is to believe. Even last season the Oklahoma City Thunder rushed Kevin Durant back into games just to try and make the playoffs, instead of looking at the bigger picture. As you know that didn't work out so well for the Thunder and surely not Durant, and this incident may have implications when it comes to Durant's pending free agency next summer.
The consensus feeling regarding Embiid's side of this story is that leading up to the decision the Sixers made for him to have season-ending surgery, he was feeling minimal to zero pain at all at this point in his rehab. He was working out like a fiend and playing in pickup games with teammates. His workouts were being described by players and executives around the league who were watching as "dominant." These reports had Sixers fans like myself straight up giddy and bursting with optimism. But that obviously was short-lived. So in Embiid's estimation he's thinking, "Hey, I don't feel any pain, so why are they making me sit out again?" For the longest time he could see the light at the end of the tunnel, and now he desperately wants to ball and officially be an NBA player.
It's like the Sixers are the parents and Embiid is the child. The Father, Hinkie, has told Joel that after his first surgery they're going to Disney World, which represents playing in 2016. And now for Joel it's like they've gotten to Disney World, but his Dad is telling him that they're just going to stay in the parking lot the whole time and not go in. (Yes, these are the best terms I could put this in.) Because of all this, Embid and his agent aren't too thrilled and are holding out on getting surgery until all options are exhausted. (Prepare for another great analogy). It's like Embiid is filibustering in the Senate and he won't leave the floor until Hinkie and the Sixers organization give in to Joel's demands and let him play this upcoming season. Now, everything that's being reported is mostly speculation, but there are so few outcomes to this surgery fallout and this is the likeliest scenario.
The one report out there that I believe holds some weight was recently released by John Gonzalez of CSN Philly, in which he gathers from multiple sources that the surgery will happen "in the near future." The report notes that Embiid as well as his confidants have ultimately been gathering more information and "wanted more time to review the matter and select a doctor."
Embiid and the Sixers have consulted "at least 12 doctors" to perform the surgery, so it's evident how thorough and precise the team is being surrounding that delicate navicular bone. Gonzalez's sources also note that Joel "has been pain free," and "was coming to terms with the decision," which reveals an alibi as to why the surgery has yet to occur.
Understand that this is just one man's report and that nothing in this piece is said with true conviction. There are so many variables surrounding the surgery and Embiid's apparent sensitive feelings that it wouldn't be surprising if things changed on a whim.
However, the silence on the Sixers' part is deafening. Every single day that continues to go by without a statement from Sam Hinkie or CEO Scott O'Neil leads to more speculation, and the assumed friction between them and Embiid gets tenser.
I don't believe this will result in the Sixers trading Embiid, mostly because he has zero trade value at the moment. I'm very optimistic that the two sides will come to an agreement on a surgery date, and I believe it'll get settled quickly after you finish reading this piece. Once Embiid comes to the realization that the Sixers are on his side and want to see him get healthy more than anyone in the world, he'll finally submit.
It's hard to tell a talented basketball player like Embiid that he can't play the game he loves and that he's once again on the path for a long and arduous rehabilitation. But it's even harder for the player to comprehend and comes to terms with this reality.
The Sixers are once again on a collision course with futility this season, and not having Embiid out there with the team is disheartening. But Sam Hinkie has done a great job hedging his bet with Joel. Hinkie knew the risks involved when drafting Embiid and has acquired a bounty of assets that'll help the Sixers rebuild even if he isn't in the fold.
Embiid certainly has the ability of being a generational talent, but the Sixers have compensated by drafting Jahlil Okafor as well entering next offseason with four first-round picks, Dario Saric coming from overseas and a colossal amount of salary cap space in 2016. But putting a silver-lining on the Embiid injury is basically a coping mechanism for a fan like myself.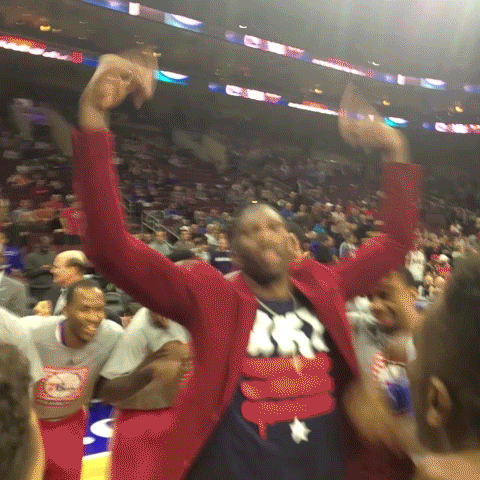 I think the best-case scenario for both parties is to just get the Pope to bless Embiid's foot when he makes his first visit to the U.S. and Philadelphia next month. An act of God is definitely a lot easier than surgery. But all kidding aside, even with all the assets Hinkie has collected, this Sixers rebuild will be more successful if Embiid can get and stay healthy. Hopefully that happens sooner rather than later.
More of Your Cavaliers with Locked on Cavaliers