Listen, I'm a normal red-blooded American NBA fan just like yourself. I love second-round picks, know way too much about the navicular bone and am all in on JaKarr Sampson being an NBA talent. Except there's one caveat…I'm in a basketball cult. And like any normal cult, I was too deep in before I actually realized I was in a cult. I just thought I had a really cool hobby, like collecting stamps or Coca-Cola memorabilia.
There was this guy down in South Philadelphia who was promising eternal glory for my beloved Sixers, but all I had to do was be patient and "Trust the Process." Yeah, that's our mantra, and you can essentially use it in any response. It's like the "Roll Tide" of secular basketball fans. I've basically replaced all salutations and regards in my texts, emails and phone conversations with "Trust the Process."
The Church of Hinkie is just like any other fanatical group, although there are less perks. We don't get any magic underwear, and Tom Cruise isn't our team mascot. But on occasion we do get to celebrate a team victory, and the NBA Lottery is one of our holiest of days.
But I don't want to confuse anyone. This isn't a Sixers takedown piece (cough, cough, The Cauldron). I am, and will forever be, a fan of this team in Philadelphia. But as someone who blindly defends everything that Hinkie does for this team, it was time to finally own up to this (probably) irresponsible behavior.
Even though I kid and poke fun at fervent and unrelenting fans like myself, it kind of feels in a weird-totally-unserious-way that our unique species has devolved into this zealous cult. We preach every word a tiny little man utters as gospel, and second-guessing decisions is sacrilege. But hey, it's just like my high school guidance counselor used to say, "it's important to have some extracurriculars, so go join some clubs." Well, I finally heeded her advice, I guess.
I'm sure you're thinking, "Jeff, how do you know when you're in the Cult of Hinkie? Are all Sixers fans automatically in the cult?"
Wow, it's funny I knew exactly what you were thinking, because I've developed this handy-dandy flowchart to help you determine if you're in the Cult of Hinkie, or just a bystander.
This chart is easy, and here's how it works:
1) If your answers lead you to a red block, then you're not yet infected with the Hinkie gene.
2) If you make it all the way to the end, you're IN and you're definitely in as deep as I am. (the Cult of Hinkie is like the U.S. Supreme Court; once you're in, you're in for life):
Please by all means take a minute to digest those flowchart results…
Okay, are we ready to resume? Good.
Aside from using the Today's Fastbreak web platform to discuss the inner workings of a fake cult I just conjured up from my perverse brain, I also have some things to say about this damn Cauldron article regarding my spirit animal, Joel Embiid.
I know you're going to question if I can be objective about this, and yes, I feel like I can separate my feelings and onus as a Sixers fan to accurately describe the current state of the franchise. There are certainly a lot of issues this article presents, and I'm going to share with you what I think is legitimate and what may stretch the truth a shred. Because unabashedly tearing down this Cauldron article is an irresponsible take (although if you want to speak privately about writing a takedown of The Cauldron, I'm all for it; email me!).
The first dilemma that Brian Geltzeiler called to attention is the alleged "internal friction" among Sixers GM Sam Hinkie and some minority owners, as well as CEO Scott O'Neil and head coach Brett Brown. The team majority owner, Joshua Harris, is seemingly less upset because he's seen his investment grow two-or-threefold since his purchase of the franchise in 2011.
Harris is purely a business man, and if his investment wasn't turning a profit he'd undoubtedly have a much shorter leash on this radical plan of Hinkie's. But as someone who's been successful in about everything he's ever done, it'd be silly to think Harris isn't becoming impatient as well. Whether it's a majority or a minority owner, it's surely frustrating from a business standpoint to see the team win only 37 games in two full seasons. It'd be hard to accept the notion that feelings amongst ownership is hunky-dory because the team's profit margins are skyrocketing.
You don't have to be a professional athlete to be a competitive person with an undying will to win; it's not unfathomable to assume the Sixers' owners are competitive and want to win as quickly as possible. But I'm a firm believer that they're still putting their faith in Hinkie's hands and aren't truly doubting the current path the team is on.
O'Neil and Brown were also understandably upset with Hinkie's unorthodox maneuvers during last year's trade deadline. It's hard to dispute this, and this wasn't much of a secret after seeing some of Brown's press conferences after the deadline. He seemed visibly ticked off and unappreciative that his GM had shipped off the 24-year-old reigning Rookie of the Year in Michael Carter-Williams.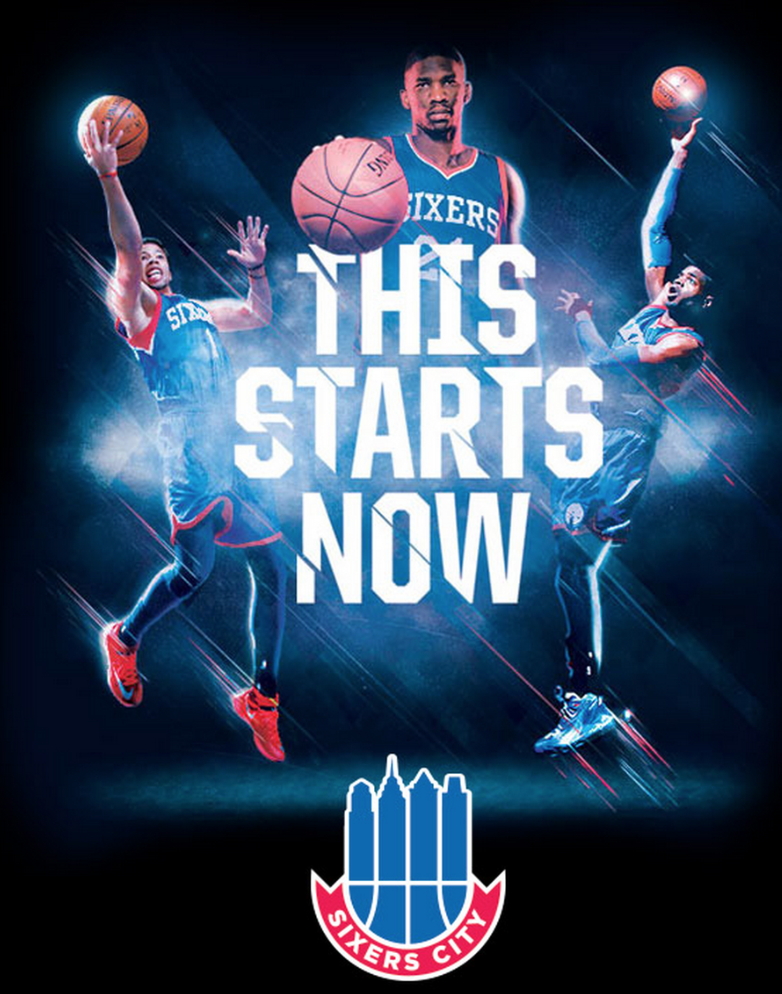 As for O'Neil, who was planning on marketing the 2o15-16 Sixers with Carter-Williams at the forefront, he also was probably coerced into accepting the current situation. But O'Neil isn't in basketball operations and mostly focuses on the day-to-day business of the team. If O'Neil is upset with Hinkie, the GM can't be too concerned with that. The team may have thrown money down a well with some of their marketing funds, but it's Hinkie's duty to plan for the future, not to appease O'Neil and make sure the team's marketing plan aligns with his own.
Although there may be some friction within the front office, this shouldn't be a lingering issue. Everyone understands the plan and wants the team to succeed, but losing will breed some of this contempt from time to time.
Aside from suspected quarrels and misunderstandings within the front office, the alleged "insubordination" of Embiid really headlined the Cauldron piece. If it isn't disheartening enough that Embiid is going to miss concurrent seasons before even playing in a single game for the Sixers, to now believe that his medical condition may have been self-sabotaged is demoralizing as a fan. Almost as demoralizing as the feeling a Cubs or Dodgers fan got when Daniel Murphy came to the plate in the past few weeks.
We all know the back story on Embiid at this point. He had back issues at Kansas, and then he had a navicular bone fracture leading up to the NBA Draft. As Geltzeiler put it, Hinkie "took a calculated risk to select him" because of the physical red flags. He also said Hinkie may have underestimated Embiid's "attitude concerns." This seems a bit overstated, as I can't remember one story about Embiid coming out of Kansas saying his off-court character would be a problem for a team.
Of course in hindsight it's easier to point fingers and question Hinkie's decision, but taking Embiid was still the correct choice. And Sixers fan or not, I'll defend that to the death. Embiid has transcendent talent that other top prospects like Julius Randle, Aaron Gordon, Dante Exum and Marcus Smart simply don't have. A healthy Embiid has the ceiling of being a top 10 or 15 player in this league. None of those previous names inspire the imaginations of GMs and coaches like Joel Embiid.
There were several anecdotes Geltzeiler used in his article displaying the "insubordination" of Embiid while under the Sixers' watchful eye last season. One was Embiid being sent home from a West Coast trip by Brown because the big man physically threatened the team's strength coach, which led to stories revolving around his lax approach to his rehabilitation.
The talk surrounding his altercation with the strength coach and his rehab habits is troubling to say the least. The only defense I can muster is that Embiid is 21 years old and he's going to make mistakes as a young kid trying to find his way in the league, while also being coddled and shielded by team officials. It must be hard as a basketball player being forced to sit out an entire season before your career gets underway.
The following anecdote by Geltzeiler probably shouldn't be a huge indictment upon Embiid. Allegedly Sixers brass didn't want Embiid attending the Summer League in Vegas. But let's real talk for a bit here: Embiid is an adult, and how can you just tell him not to go to Vegas with all his teammates?
Although the Sixers have every right to advise Embiid on what to do, at the same time he has free will, and he should be able to party with his teammates in Vegas. NBA players aren't robots, they're human beings who like to blow off some steam in Vegas from time to time. He was facing a second surgery that would cause him to miss another 82 games, so sending him to Vegas was the least the Sixers should've done.
If the part is true about Embiid blatantly disregarding doctor's orders to wear a walking boot, but instead continued without it, that's not good. The gray area about whether Embiid had a "rebreak" or "less healing than anticipated" is still unknown, and we can't know exactly what doctors were relaying to the Sixers and Embiid about procedures before the second surgery was to commence.
The Cauldron piece even went as far as to indict Embiid because of his dietary habits, saying he didn't touch the healthy food that was stocked in his hotel room refrigerator by the team and instead continually broke his diet by munching on chicken fingers and hot dogs while always drinking his beverage of choice, "a pitcher of Shirley Temples."
When there was conjecture about Embiid being out of shape and nearing 300 pounds last season, he quickly proved that wrong. Again, the guy is 21 years old and rehabs (likely) on a daily basis, so guys are going to cheat occasionally.
All of these stories just build Embiid up as more of a problem than he may actually be. I obviously can't 100 percent refute anything that was written, but it wouldn't be a surprise if there was some embellishment. Based on everything that's out there, there's little doubt Embiid has caused some problems within the organization, but the levity and longevity of his actions don't warrant major concern. His medical condition is obviously the real issue, but the character problems seem to be a bit overblown.
Hinkie has unquestionably confounded the most radical and deep-seated attempt at a team rebuild in NBA history, let alone SPORTS history. Was drafting Embiid a risk? That's undeniable. But if the Embiid experiment fails, does this mean that Hinkie does as well? Absolutely not.
What's unfairly disregarded in the article is how well the Sixers are set for the future even if you consider a future without Embiid. Hinkie is coming into his third year as Sixers GM, and he's been given the reins to do whatever is necessary while also having basically no expectations by his bosses. That's simply just never been done before.
This is why there's been story after story circling around the mysterious Sixers GM. There are many who still can't fathom just exactly what the Sixers are doing and why they're just letting their team lose for an undetermined period of time.
The Hinkie plan evidently isn't for everyone, but there's an end in sight. He's not running some Ponzi scheme and there's not some absurd ulterior motive for the Sixers to just continue losing for as long as they possibly can. Hinkie is a very smart man who earned his MBA from Stanford University. He loves basketball and wants to stay in the industry for the rest of his life. Losing hundreds of games and ruining your reputation amongst the league doesn't usually help in NBA job interviews. He's in it for the long haul.
So yeah, back to the Embiid "insurance policy" that Hinkie has compiled. Going into the 2016 NBA offseason, Hinkie has positioned his team with a possible FOUR first-round draft picks, an incoming Dario Saric (maybe), as well as approximately $60-plus million in cap space. Then there's this year's third overall pick Jahlil Okafor, who's currently primed to take the league by storm from the get-go. A healthy Embiid or not, the Sixers still have a lot of "optionality" and a bright future.
Geltzeiler brought a lot of issues to light that are probably true, but it's hard to believe Hinkie's time within the organization is running short. Building a team is clearly an art and not a science. There's no formula or recipe for success that everyone can follow. There's no wrong or right way; everything is different. Hinkie isn't a conformist, and his plan for this team clearly doesn't conform to the procedures of normal NBA executives.
We simply have to wait and see what comes next. If I had a time machine, I'm sure I'd be bragging about the Sixers' five straight NBA titles, but alas, I do not. So now I'm stuck defending my fearless leader until the NBA tides change.
That's all I got, folks. My heart has been pulled out of my chest and laid on the table for you. Agree with my take or not, just remember to Trust the Process…
More of Your Cavaliers with Locked on Cavaliers